Corporate Overview StoneFly

Founded April 2000

Headquarters in San Diego

Raised $34M from top-tier investors

Active, long-standing member of the Internet Engineering Task Force (IETF)

Developed the iSCSI standard

Shipping IP SAN based solutions since June 2002 with installations at over 250 customer locations

Over a Petabyte installed
The Storage Problem for SMBs

Data Growth: Fixed Storage Content Growing 90% Annually

Electronic Mail, Presentations, Video Files, etc.; Internet and e-Commerce (customer data collection)

Limited Budgets and Resources

IT budget and resources do not track growth

Increased requirements without corresponding budget

Legacy Systems: DAS and traditional network backup are the prevailing tools for storage management

Direct Attached Storage is inefficient and must be managed on a server-by-server basis

Infrastructure: Backup must share 10/100 LAN resources and is both labor and time intensive

Rapidly expanding data assets cannot be supported with current infrastructure
Key Requirements of SMBs

Scalable and Flexible Storage Capacity

Efficient and Economical Storage

On-Demand Capacity

Improved System Availability and Recoverability

All Critical Computing Assets – Not Just Somee

Increase Overall Uptime – Accelerated Recoverability

Improved Data Protection / Integrity

More Timely Data Backups

Shrink Potential Data-Loss Windows

Regulatory Compliance

Storage Management and Optimization Tools

Reduce Operational Costs

Proactively Manage the Storage Environment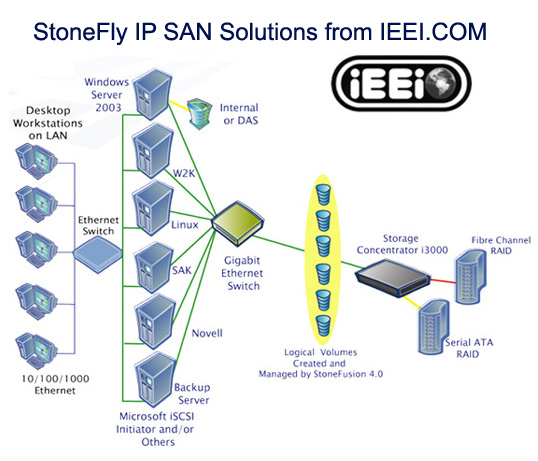 StoneFly Software Solutions

Based on "Open" Architecture and existing IP network

Linux-based StoneFusion® software on a Dell server

Re-branded software from industry leading partners

Both Infrastructure and Enterprise-wide

SAN-centric solutions delivered via StoneFusion

Enterprise-wide solutions via reselling OEM software

Backed by single point of service

StoneFly provides 7x24 service on all products

One phone call solves problem - no finger pointing, no hassles

Economical and easy to deploy

Best value over time

Solutions improve as technology advances

New features are easily added
StoneFly Value-Added Software
High Availability
Method of Operation
Method of Data Access Recovery
Operating System
StoneFly Replicator®
Remote Asynchronous Mirroring
Recover on Remote Server
Windows and Unix
StoneFly ReflectionTM
Synchronous Mirroring
Recover to Secondary volume
OS Independent
Data Recovery
Method of Operation
Method of Data Loss Recovery(e.g. deletion, overwrite, corruption)
Operating System
StoneFly Replicator® CDP
Continuous Data Replication
Rollback to Earlier Point in Time (

Application Aware

)
Windows only(FS, SQL, Exchange)
StoneFly Snapshot
PIT Snapshots
Rollback to Previous Snapshot
OS Independent
StoneFly Backup Advantage
Backup & Restore
Restore From Disk or Tape
Windows, Unix, LinuxHPUX, AIX, etc.
iSCSI Revenue Growth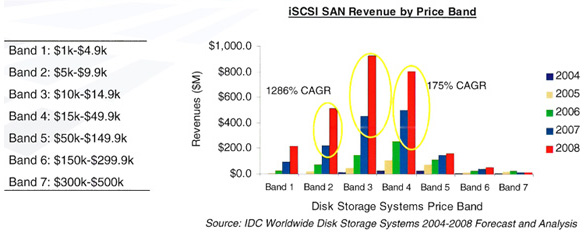 Band 2&3: $5k-$15k
Band 4: $15k- $50k
2005 - $230M
2005 - $250M
2006 - $670M
2006 - $500M
2007 - $1.4B
2007 - $800M
Introducing StoneFly ValueSAN from IEEI.COM

Hits market need with prices starting at under $10,000

Delivers best value over time

Scales in both capacity and nodes

A single array supports multiple drive capacities

Wide range of data protection and storage management software options

Meets the customer needs now and grows as they grow

Flexibility

FailOver clusters to support high availability

Fibre Channel SAN Extension to integrate with corporate networks

Best-in-class service and support with proven history of reliability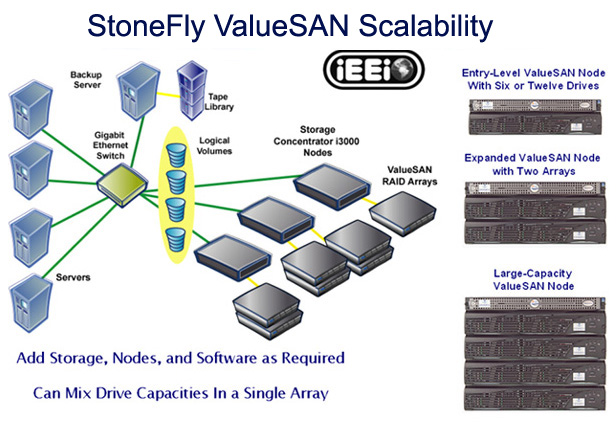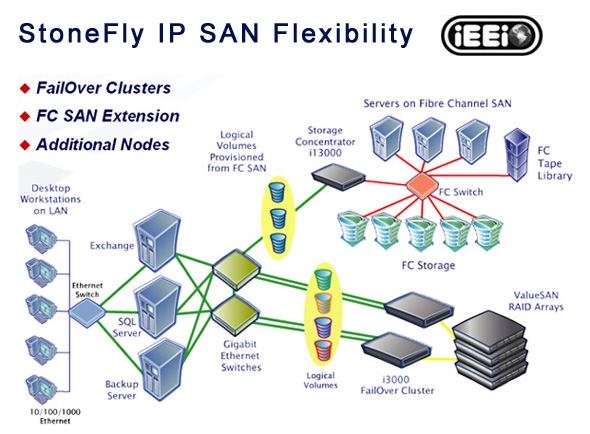 Pricing. Contact IEEI.COM
ValueSAN Configuration*
Drives/Capacity
Price
Entry Level Half-Populated
6 x 160/960 GB
6 x 250/1.5 TB
6 x 400/2.4 TB
$8,995
$9,495
$10,495
Entry-Level Fully Populated
12 x 160/1.92 TB
12 x 250/3.0 TB
12 x 400/4.8TB
$10,995
$11,995
$14,495
Six-Pack 160 GB
250 GB
400 GB
6 x 160/960 GB
6 x 250/1.5 TB
6 x 400/2.4 TB
$1,995
$2,495
$4,495
Expansion Array 1.92 TB
3.0 TB
4.8 TB
12 x 160/1.92 TB
12 x 250/3.0 TB
12 x 400/4.8 TB
$7,995
$8,995
$11,995
Storage Concentrator i3000
FailOver Cluster for High Availability
$4,995
*Other Configurations Available. Price are subject to change. USA domestic, contact IEEI for International prices.