Lowers Management Costs and Extends ROI

A cornerstone of StoneFly Business AdvantageTM, StoneFly Network Storage Management provides key functions users have come to expect in an IP SAN: Centralized management, storage consolidation, access control, storage provisioning, volume management and mirroring. These features built into the Storage Concentrator®, powered by the StoneFusion® Intelligent Network Platform, reduce the total cost of ownership by lowering management costs and increasing storage utilization.

By adding block-level storage intelligence to the IP networking core, Storage Concentrators deliver all the benefits of SANs, including increased storage utilization through storage consolidation, feature-rich managed storage capabilities, rapid deployment of new storage and SAN-based backup capabilities.

Storage Concentrators enable storage provisioning, which turns physical disks into virtual storage units, or logical volumes. These logical volumes are presented to the host as local SCSI disks. Each logical volume points to physical storage in disk arrays by blocks. StoneFly's Storage Concentrators also facilitate advanced storage management functions, such as synchronous mirroring through StoneFly Reflection and FailOver Clustering.

StoneFusion Intelligent Network Storage Platform

StoneFly's IP SANs are based on the company's patent-pending storage networking foundation architecture, StoneFusion. An intelligent iSCSI storage packet routing technology, the StoneFusion Intelligent Networking Platform effectively standardizes message/file and storage I/O onto an Ethernet/IP network to ultimately "converge" existing networking and storage architectures.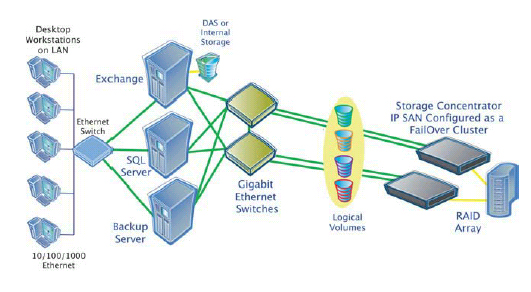 Storage Concentrators operate directly in the data path (in-band) between the servers and storage devices, and also provide disaster recovery and business continuance support, such as FailOver, mirroring and backup/restore.



About StoneFly Networks

StoneFly Networks® is the innovator of powerful, cost-effective data protection and management for departments, workgroups and mid-tier organizations via the StoneFly Business AdvantageTM solutions suite.

Storage Concentrator i3000 Benefits:
Centralizes storage management, control, and monitoring of logical storage volumes
Easy-to-use HTML-based management interface
Works regardless of the type of storage devices or network locations of the physical storage devices involved
Built-in StoneFly Reflection for local and campus synchronous mirroring of Storage Concentrator volumes TM
Built-in StoneFly Snapshot to protect against loss of critical data
Centralizes access and control, allowing administrator to designate which physical storage devices are accessible to individual hosts
Isolates departmental and work group storage from data center storage while delegating management authority to personnel at the workgroup or departmental level
Maximizes utilization of storage resources and eliminates waste by making the storage available on the IP network
Allocates Fibre Channel SAN storage to servers on the IP network
Allows administrator to quickly respond to changes in storage requirements
Supports a wide range of software, including StoneFly Replicator®, StoneFly Replicator® CDP, and StoneFly Business AdvantageTM
Storage Concentrator i3000 Specifications

PROTOCOLS & STANDARDS

iSCSI (IETF)
IP (RFC 791, 894, 1092)
TCP (RFC 793)
ICMP (RFC 792, 950, 1256)
SCSI-2 and SCSI-3
Fibre Channel

INITIATORS: All iSCSI compliant initiators

TARGETS

Parallel SCSI (Per Port): Up to 15 storage targets
Fibre Channel (Per Port): Up to 127 storage targets per Fibre Channel Loop or any number in a switched fabric

LOGICAL VOLUME MANAGEMENT:

Volume Size: Minimum 1 GB, Maximum 2 Terabytes
Maximum Number of Sessions : 128*

MIRRORING:

Built-in StoneFly Reflection Synchronous mirroring

MANAGEMENT

Telnet (RFC 854)
HTML
HTTPS
IEEE
IEEE 802.3 (10/100 Ethernet)
IEEE 802.3z (Gigabit Ethernet)

PORT CONFIGURATION:

One management port (Gigabit Ethernet)

I/O ports:

• 2 iSCSI (Gigabit Ethernet) I/O ports

• 2 Parallel SCSI or 1 Fibre Channel (1 Gbps)

DIMENSIONS: 19" W x 30.1" L x 1.9" H (482 mm W x 765 mm L x 48 mm H)

FRONT PANEL: Switches: Power; LEDs: System Status and Power On Indicators

CONSTRUCTION: 1U height 19" rackmount chassis (IEC 297)

WEIGHT: max 39 lbs (17.7 kg) depends on configuration

POWER: 110/260 VAC, 7A/4A, 60/50Hz each unit

POWER SUPPLY: 550 W

SYSTEM COOLING: 4x8 cm fan assembly

OPERATING TEMPERATURE: 50º to 95º F (10º C to 35º C)

STORAGE TEMPERATURE: -40° to 149°F (-40° to 65° C)

RELATIVE HUMIDITY: 8-80% non-condensing

ALTITUDE: -50 to 10,000 feet (-16 to 3048 meters)

REGULATORY

FCC 47 CFR Part 15, Class A
CSA C1088, Class A
UL 60950, CUL 60950
CE Mark (EN455022 Class A/EN455024)

WARRANTY

One year 7/24 phone/Web technical support
One year factory warranty; additional maintenance plans available

*Some initiators require more than one session





Complete IP SANs for Under a Penny a Megabyte

StoneFly Networks offers complete Scalable IP SANs, which include Storage Concentrators and back-end storage from a single source provider. StoneFly IP SANs are designed to give IT professionals a simple, intelligent, yet affordable entry to the benefit of storage area networking. High-quality RAID storage options are available from 1 TB to 12.6 TB or larger.
Modular configuration protects your investment—add only what you need
Enterprise class features and functionality with a cost effective, expandable package
Includes StoneFly ReflectionTM synchronous mirroring and StoneFly Snapshot
Web enabled GUI allows for central storage management over any standard web browser
Affordable storage that can be increased as your data grows

Enterprise-class RAID built around the latest advanced ATA and Serial ATA high-speed disk drives
"Next Generation" performance, reliability and high data availability
Fibre Channel or SCSI interface options
Unsurpassed fault tolerance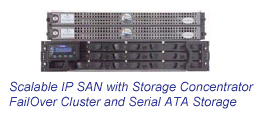 Back