Virtual Online, Nearline and Offline Storage Libraries
Virtual Online: Firefly Digital Virtual Libraries

Product Description:
The FireFly, our new line of Digital Virtual Libraries, combines high capacity, high performance and low cost into a single storage system. The FireFly uses the latest Serial-ATA technology to provide Fast Random Access data storage when coupled with the FireFly's advanced silicon switching technology. This provides the Highest Density storage in the Industry. Subsystems range from 12TB to 48TB with transfer rates of up to 400MB sustained.

The FireFly Digital Virtual Library can be easily configured to support JBOD, and all major RAID levels. By using the built in software of the DVL the user can customize the ASACA library to manage multiple virtual libraries within the same cabinet. Each virtual library can use disk configurations to optimize your storage needs, with JBOD, RAID 0,1,5,10 all operating at the same time.

Serial ATA Drives
Designed to replace the hardware of today's parallel ATA Interface, Serial ATA improves performance to keep pace with increasing data intensive environments.

Back Plain Switch
Each data channel bursts 150MB/s and aggregate speeds can reach astonishing 400MB/s. Multi-cabinet configurations have a capability of transferring data at multi-gigabyte speeds. The first fully electronic non-robotic data library, the FireFly was designed with an electronically switched data path, eliminating the need for robotics, and providing greatly improved data access and reliability. Drives and RAID sets are switched off and on between the four banks of drives in the FireFly.

Predictive Failure Analysis
The FireFly manages the reliability of data based on Predictive Failure Analysis of physical disk by monitoring the Self-Monitoring Analysis and Reporting Technology or "S.M.A.R.T." status of the drive over time. The FireFly will take a drive that is suspect and write it's data to a spare drive dedicated to S.M.A.R.T., taking the suspect drive off line while remapping the spare drive to the RAID set it replaced. When a new drive is inserted to replace the bad drive, the reverse process is done and the spare drive added back to the spare pool. The analysis reports the following:

Head flying height
Number of remapped sectors
ECC use and error counts
Sin-uptime
Temperature
Data throughput
Idle Time Error Checking
Power Management
High-end storage products can consume 14 kilowatts per hour. A "greener" solution, the FireFly requires about the same amount of electricity as eight 120W light bulbs for an equivalent amount of storage. This advanced power management technique can save companies thousands of dollars in utility charges. Power Management powers drives off during idle time. Drives "spin-up" on first I/O request, while drives go idle and "spin down" after I/O timeout.
Compatibility
The FireFly DM-Series Virtual Libraries are compatible with all leading networked operating environments. CUC integrates software that makes it fast, easy and seamless to integrate the FireFly into Windows 2000, Unix and Macintosh platforms.
Most near-line solutions today are slow, making them impractical for many high-speed applications such as video and data files. Unheard of in the near-line industry, the FireFly delivers as many as 48 concurrent strings of data per library, at unprecedented 400MB/s. The FireFly is truly the next generation near-line solution with the level of performance and scalability required for High Data Broadcast, Medical Imaging, Financial, Oil and Gas yet economical enough for mid size organizations.
Advantages
The FireFly is rooted in stable, industry-standard, cross-platform compliant hard disk drives. The same basic technology every computer user has relied on for nearly three decades. By incorporating SATA HDD into the FireFly, the user's long-term storage investment is preserved. Capacities grow with higher capacity SATA drives and can be mixed in the library in the future.
The advantages offered by FireFly in networked storage environments include: scalability, economy and performance. A point-to-point connection, SATA allows multiple drive ports to be aggregated into a single controller, meaning capacity hungry applications and environments can quickly and easily respond to their changing storage requirements not only giving organizations greater control over scalability, but over cost by just adding additional drives with higher capacity.
Capacities and Configurations
DM50- Maximum capacity 12TB with (48) 250GB SATA drives, Dimensions 30.3" H x 19.7" W x 30.7" D. Weight 662 lbs.
DM100- Maximum capacity 24TB with (96) 250GB SATA drives, Dimensions 44.5" H x 19.7" W x 30.7" D. Weight 882 lbs
DM200- Maximum capacity 48TB with (192) 250GB SATA drives, Dimensions 72.8" H x 19.7" W x 30.7" D. Weight 1103 lbs
Operating Environment
Operating Temperature: 5C-35C
Thermal Gradient: Maximum 10C/hr
Humidity: 20-80 %RH
Wet Bulb: 30C max
Power
Voltage: 90-264 V AC
Frequency: 47-63 Hz
Power Consumption: 15A / 7.5A (100 / 240 V) 1800 VA maximum
Inrush Current: < 140 A / 280 A (115 / 230 V 25C)
Nearline: Omnilib/DVD Series Libraries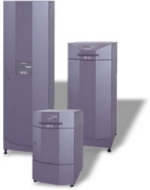 Product Description: IEEI has introduce the latest Omnilib family of DVD-RAM Libraries. The OmniLib family of DVD-RAM combines high performance and low cost into a single storage system. OmniLib libraries range from 2.35 Terabytes to an incredible 13.6 Terabytes in a single cabinet. Virtual Libraries: Each OmniLib can be partitioned into a maximum of 8 virtual libraries (VL). Media and drives are assigned to each VL. Each VL is managed independently of one another.
DVD Libraries - 250, 750, 1450 SLOT
Expandable
Start with a single library and as your storage grows, connect up to 8 libraries together for tremendous storage and throughput! A maximum configuration would have 8 physical libraries connected together with full pass-through and infrared TCP/IP for communication between cabinets. The total system contains 8 dual picking mechanisms, 192 DVD-RAM drives, and 11,6000 pieces of media. This system has an amazing capacity of 108.8 terabytes and an aggregate I/O throughut of 529 Megabytes per second!
System and Web Controller
All OmniLib DVD-RAM libraries include an integrated system controller that runs a QNX real time UNIX operating system. Included with the QNX operating system is an embedded Apache web server. There two components allow administrators incredible versatility in managing, administrating, and virtualizing their OmniLib DVD-RAM library system.
Fibre Channel
Companies can take advantage of the robust features of Fibre Channel Technology. Customers can now introduce the OmniLib DVD-RAM libraries into a fibre channel environment by adding the OmniLib Fibre Router, mid-range to high-end UNIX and NT markets are now ready to introduce high performance DVD-RAM storage into their SAN. The OmniLib Fibre Channel option provides the performance, reliability and fault tolerance for enterprise-class storage and the emergin Storage Area Network. IEEI is including the Extended Copy option feature for high performance backup/archive over fibre channel/SAN.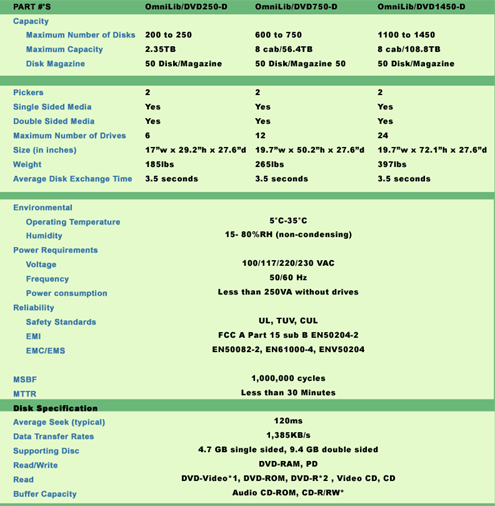 Offline: OmniLib-TLS-5000 S-AIT Tape Libraries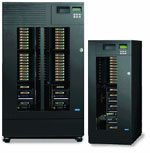 Product Description:
The OmniLib-TLS-5000 series tape subsystems is the first family of automated tape libraries utilizing Sony's new S-AIT (Super AIT) tape drive technology to deliver 500GB per tape enterprise class backup and near-line storage solutions. The S-AIT1 tape drive is the result of combining the best features of Sony's widely used AIT recording technology with increased media recording area afforded by the ½-inch tape format. IN the OmniLib/TLS-5000 advanced robotic design, S-AIT yields industry-leading capacity, storage density, performance and reliability.
Up to 45 Terabytes per Square Foot
Lowest cost per Terabyte
Worldwide Remote Management
Upward Capacity Growth
Future 1TB and 2TB roadmap per tape

S-AIT1 High Performance
Seamless Integration
Reliable, Intelligent Robotics
From 16.5-132 TB Capacity
Field upgradeable drives

Expandability Protects ROI

Upgrade kits for two models available to double number of tapes
Additional drives are easy and fast to install
Tape drives in plug-in canisters with individual cooling fans enhance reliability
Drives are 'Hot-Plugable' for user installation in less than one minute
Capacity expansion kits take less than one hour to install

Versatility

LVD/SE interface
Multiple SCSI bus connections supported
2GB SANSmart Fibre Channel Options
Logical Library dynamic partitioning
Simultaneous random and multi-sequential operating modes
Selectable recycling and dual-bin sequential modes

Powerful User Interface

Intuitive menu-driven control system provides easy-to-use installation
Configuration and operation information via the large LCD panel
Critical operating messages displayed with audible alarms signal immediate action
Q-Link™ browser-based remote library manager allows any library to be configured, monitored and managed from anywhere in the world

Engineered for Reliability

All brushless motors, no belts or pulleys
Self-calibrating, all-digital servo control system
Pre-wired tape drive mounting slots
Auto-aligning, no mechanical or electrical adjustments
Pressurized, filtered, forced air cooling with redundant fans
Over 1,000,000 MEBF Automated tape drive cleaning
Specifications Table
4 Models to choose from
5433
5466
58132
58264
Number of Drives
1-4
1-4
1-8
1-8
Number of Tapes
33
66
132
264
Native Capacity (TB)
16.5
33
66
132
Compressed Capacity (TB)
42.9
85.8
171.6
343.2
Max. Native Data Rate
432
432
864
864
Max Comp. Data Rate
1.1
1.1
2.2
2.2
Avg Exchange Time (sec)
16
16
18
18
Time to Scan Barcodes (sec.)
41
91
92
108
Q-Link Remote Library Manager
Std.
Std.
Std.
Std.
Barcode Reader
Std.
Std.
Std.
Std.
I/O Port
Std.
Std.
Std.
Std.
Field Expansion Kit
Yes
Yes
Height (in./cm.)
45/114
62/157
Width (in./cm.)
19/48
37/94
Depth
30/77
30/76
Net Weight (lb./kg.)
105/48
359/163
Power Consumption (watts avg)
250
470
FlashNet: Archiving with Media Manager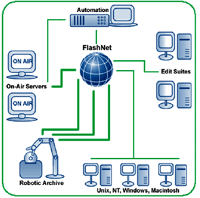 FlashNet is working with Avid to provide and integrated archive system unparalleled in Avid Unity environments. Avid users will be able to archive and restore compositions and master clips directly from the Avid MediaManager desktop to a number of different data archive libraries from DVD all the way through high performance tape libraries, Avid users can make use of almost unlimited storage capacity.
This is all made possible by the direct integration fo t he FlashNet archive manager with the Avid MediaManager. MedaManager is a powerful media asset management application designed to allow intuitive search, sort, management, and retrieval of media and metadata. It comples with the Open Media Management (OMM) interface standard and is completely compatible with Avid project and bin file structure common to all Windows NT based Avide editing applications. FlashNet operates as an integrated part of this system such that sending material to an archive is achieved by selecting "SendToSGLArchive" in an Avid pulldown menu much like a "SendToWorkgroup" transfer. The restoration process is equally simple in that all the MediaManager search tools for Unity also apply to archived material. This includes searching by text, time, project, bin, or media type. The same choice of views available with MediaManager for Unity systems also apply to archive searches.
The mechanism by which FlashNet is integrated with MediaManager is the Dynamically Extensible Transfer (DET) interface. DET provides a mechanism for vendors to implement their own transfer protocols under the control fo the Avid TransferManager server. Sending material to the archive is initiated by the editor application or from the MediaManager. In the case of initiation from the editor, the user selects one or more master clips or compositions in a bin. He then selects the "SendToWorkgroup" menu and then "SendToSGLArchive". From the Mediamanager, the user selects one or more master clips or compositions and drags and drops them into the archive portion of MediaManager. In either case, the selection initiates the transfer to the archive library via FlashNet. FlashNet then selects the proper DVD or tape and writes the master clip or composition to the media. All media written by FlashNet is self-contained such that even if it is removed from the library, it remans part of the FlashNet database.
FlashNet - THE software in broadcast industry
Retrieval from the archive is equally simple. Using MediaManager allows the user to search on a number of different attributes with flexible views of the search results. These views can be a Head Frame view which represents each clip by name with a head frame as well as the clip type, creation date, date last modified, check-in date, and tape name or a Text view with only the attributes sor a Head Frame Only view with only the Head Frame. When the user finds the master clips or the compositions desired, he can drag and drop them into a Media Composer or Newscutter bin or into a local MediaManager. FlashNet in turn takes this request, finds the media where the master clip or composition is stored, and restores it to the requested location. All this is accomplished without further interaction by the user.
Integrated with Avid Desktop
Eliminates re-encoding of previously generated clips
Single repository for all related files
Extensible to multiple workgroups
Multiple storage levels from on-line to near-line to off-line
FlashNet provides the means to abstract the archive library from the application and, therefore, the user. The archive library acts as a logical extension of the storage available on the Avid systems. The implication of this is that the user sees virtually unlimited storage for his Avid systems and a way to search and retrieve archive material. With a matter of a few clicks, projects can be archived and retrieved without having to re-encode material or find other files associated with a master clip or composition.
FlashNet has all the features you would expect from a superior archive management system including off-line media tracking, media spanning, prioritization, grouping and many more. More than 4000 copies of FlashNet have been installed worldwide. FlashNet is available on SGI Irix, Sun Solaris, Windows NT, and Windows 2000 to provide maximum flexibility for any operation. Clients are also available for Mac-based Avid systems.
Copyright ©1995-2004 International Electronic Enterprises, Inc. All Rights Reserved
110 Agate Ave., Newport Beach, CA 92662, Telephone +1 949-673-2943, Fax +1 949-673-0249, E Mail: ieei@aol.com